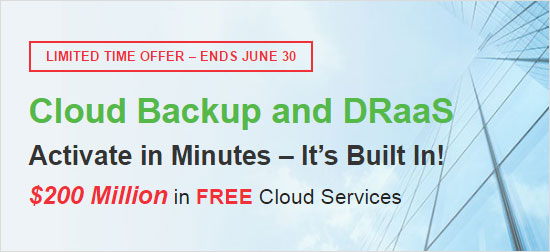 Now is the time to extend Availability to the cloud, to ensure your business remains Always-On™!
Veeam® and Zettagrid are providing a cost-effective way for you to trial backup and disaster recovery in the cloud.
As a valued Veeam customer, you can NOW activate Cloud Backup and DRaaS in minutes, through an unprecedented special offer, for a limited time, get up to $1,000 in FREE cloud services.
How do I register?
Request a code from Veeam - https://go.veeam.com/promo-free-cloud-services-anz.
Veeam confirms that you meet requirements and issues a unique code to the customer.
You visit the Zettagrid website (https://www.zettagrid.com/promo-free-veeam-cloud-services/) and complete the online form.
Zettagrid validates the customer's code with Veeam and registers the code. This must be done before Zettagrid delivers any new Veeam Backup or Veeam Replication services.
Get started!
*NOTE: Offer is only valid for Veeam Replication and Veeam Backup for New Services or additional VMs, please read FAQs for more information.

Tags