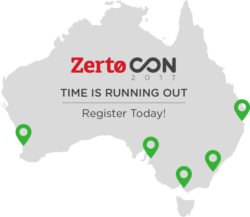 Zettagrid is proud to be a sponsor of the 2017 ZertoCON Local!
This is a chance for you to get a glimpse at the latest and greatest from Zettagrid and Zerto, learn from our team, and what the future of IT holds. This conference will provide a forum to interact with your peers and the Zettagrid and Zerto team on everything disaster recovery related.
Learn how to ensure you can survive any disaster and keep your business up and running >> Register today!
Zettagrid will be attending the following locations:
Brisbane - July 25, 2017
Adelaide - July 26, 2017
Perth - July 27, 2017
Melbourne - August 1, 2017
Sydney - August 3, 2017