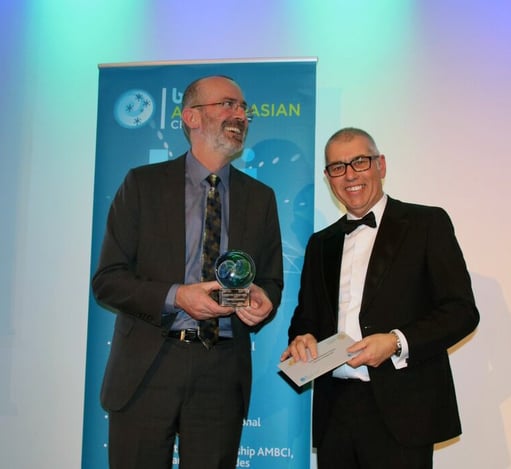 Zettagrid is pleased to announce that our comprehensive Disaster Recovery product SecondSite has been awarded Continuity and Resilience Provider (Service or Product) at the 2017 Business Continuity Institute Awards Australasia.
Receiving the award at the Sydney ceremony was a great honour, and is a testament to SecondSite, bringing innovation to the disaster recovery space in Australasia.
"In a world of ever increasing ICT and cyber related risks, it's exciting to see products like SecondSite emerging. It's vital to understand the importance of time during a disaster, and that's just one of the things SecondSite does. The BCI are pleased to present Zettagrid with this award for their product, which we hope will help pave the way for greater preparedness and overall organisational resilience," said David Thorp, BCI Executive Director.
SecondSite is a real-time disaster recovery replication solution built on the award-winning Zerto platform. If a disaster were to impact operations, the IT will be up and running within minutes in Zettagrid cloud until the primary site recovers.
"BCI Australasia's recognition of Zettagrid's product SecondSite is a fantastic achievement for 2017," said Nathan Harman, Zetta Group CEO. "SecondSite, Zettagrid's DRaaS product is a game-changer for businesses of all sizes across the APAC region who want to replicate their virtualised IT environment into Zettagrid cloud. It's the most affordable, scalable and quick disaster recovery solution available today."
Going beyond replicating virtualised IT environments from on-premise into Zettagrid's cloud, businesses whose environment is already in the Zettagrid's cloud can now replicate into other zones with SecondSite Interzone. SecondSite removes the need for secondary data centres, duplicate IT equipment and lengthy wait periods that can interrupt operations and impact productivity.
Testing and deployment of SecondSite is fast, with the lowest recovery point objectives (RPOs) in the market today. Performing a full failover takes only a few minutes, with next to no impact on day-to-day operations. Users are likely not to know when operations have failed over into a different zone.
Find out more about SecondSite by visiting our web page >> http://bit.ly/2wVtDaG
Tags