Regularly testing your disaster recovery service is not only an essential IT risk mitigation function, it's a critical compliance task.
Ticking the compliance box is necessary while you're also ensuring you can recover your data in the event of an unexpected outage or disaster event.
Ensuring your data is recoverable should not be viewed as a compliance inconvenience, but rather as a crucial business process which needs to be performed on a regular basis. But demonstrating and reporting on compliance has been known to be a challenge.
SecondSite powered by Zerto removes the hassle of testing your backups by making the process simple and easy to use with no impact to your business operations or users.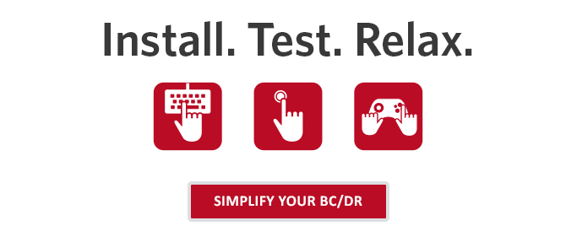 Here are five ways SecondSite removes the hassle of this crucial risk mitigation task.
1. The process is simple
SecondSite is a real-time disaster recovery replication service that is fast to deploy and simple to test. With your virtualised IT environment replicated in Zettagrid's cloud, you can test anytime, in real time.
Once you have configured your SecondSite service, failing over into the cloud is a simple and easy process enabled via your management portal.
2. Simple self-service means less moving parts
Having the capability of self-servicing means testing isn't resource intensive. With SecondSite you can test your business resilience without the need to involve multiple users and teams.
Other disaster recovery solutions may require you to set aside time, human, hardware and software resources to accomplish a restore test. SecondSite's disaster recovery replication platform on the other hand empowers you to test your data resilience without the need to involve multiple parties or obtain additional hardware and software resources.
3. Zero impact to business operations
SecondSite's low RPOs enable you to test your disaster recovery capability without impacting your business operations or your end users in any way.
Your replicated virtualised environment in the cloud is isolated and contained. There is no need for you to set aside hardware resources to perform a restore test, take your business offline or impact your IT end user environment.
Simply failover into the cloud. Your users will unlikely even know that you failed over. When you've completed your test, simply fail back to your primary site.
4. Low cost
A traditional disaster recovery site is an expensive option for most organisations. This secondary site needs to have the necessary hardware and software resources which sit unused until they are needed. These disaster recovery sites depreciate over time leading to a very low return on investment which is an extremely inefficient use of scarce resources.
Gone are the days of complexity with base service fees, resource reservation fees, license fees, storage costs, Ram costs, CPU costs, consulting and implementation costs. SecondSite removes the financial burden full stop.
Each test with SecondSite is a simple one-off fee, plus the cloud resources used while production is run in the cloud. You can use this handy cost calculator to estimate your spend and calculate your savings by migrating your backups to this platform.
5. Simple and elegant reporting
SecondSite provides you with all the compliance reporting you may need which you can run on-demand at any time in your management portal.
These reports have been created with compliance in mind, which means your successful testing, failovers and failing backs can be communicated to your Board of Directors in a way that is easy to understand for non-IT executives.
If you're time poor and juggling competing priorities, we can deliver disaster recovery compliance reporting through SecondSite for you on a regular basis. giving you the peace of mind your data is secure and available.
Conclusion
SecondSite compliance reporting provides you with a solution that is simple and affordable without compromising on enterprise features.
It also gives you the peace of mind that you are meeting your compliance obligations and can recover your data with minimal impact to operations in the event of an unexpected outage.
Contact us to discover how you can get protected with SecondSite powered by Zerto. Call 1300 597 656 or email sales@zettagrid.com.
---

Tags