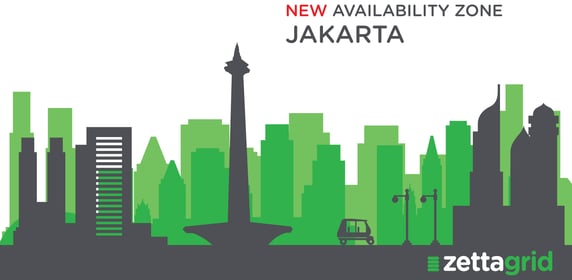 We're thrilled to announce the recent regional expansion of Zettagrid Infrastructure-as-a-Service (IaaS) cloud solutions into Indonesia, with the opening of a new zone in Jakarta. This expansion is the first step in Zettagrid's strategy to deliver cloud services to the whole APAC region.
"Our decision to expand the Zettagrid cloud products and services into Indonesia is part of our global strategy," said Nathan Harman, Zetta Group CEO. "Zettagrid has built a powerful reputation in the Australian market since our inception in 2010, and with the increasing adoption of cloud computing amongst enterprises globally, expansion into South East Asia is the next important milestone for our organisation."
With a strong foothold in the innovation and automation space amongst the Australian cloud services market, Zettagrid Australia has grown to manage over 4,000 virtual machines and maintain over 100 Channel Partners nationally. Zettagrid Indonesia will offer the same comprehensive Channel Partner Program to local businesses, rewarding partners that build innovative customer solutions using technology based on Zettagrid's award winning infrastructure.
This engagement includes the expansion of Zettagrid Australia's Channel Partner Program to local Indonesian solution providers and system integrators. Zettagrid Indonesia is forecasted to be a driving force in the adoption and acceleration of cloud computing amongst Indonesian businesses.
Zettagrid Indonesia will deliver a range of cloud computing services, including Virtual Server, Virtual Data Centre (VDC), Backup, and Disaster Recovery, all built and managed in an enterprise grade VMware certified environment. The availability of automated self-provisioning, scalability, zero set-up fees, no contract commitments and support by local management is a huge leap forward for Indonesia businesses wanting to operate in the cloud.
"We are proud to be involved in the expansion of Zettagrid Australia into Indonesia. Zettagrid has a long and successful track record of working with its partners to design, build, and manage complex cloud platforms that meet the many needs of IT organisations. We see that there is a need in the market to provide a locally hosted cloud IaaS service with easy management and integrated billing." said Reza Kertadjaja, Country Manager of Zettagrid Indonesia.
To find out more about the products and services Zettagrid Australia offer, visit our website www.zettagrid.com.
Read the complete release here.
Tags