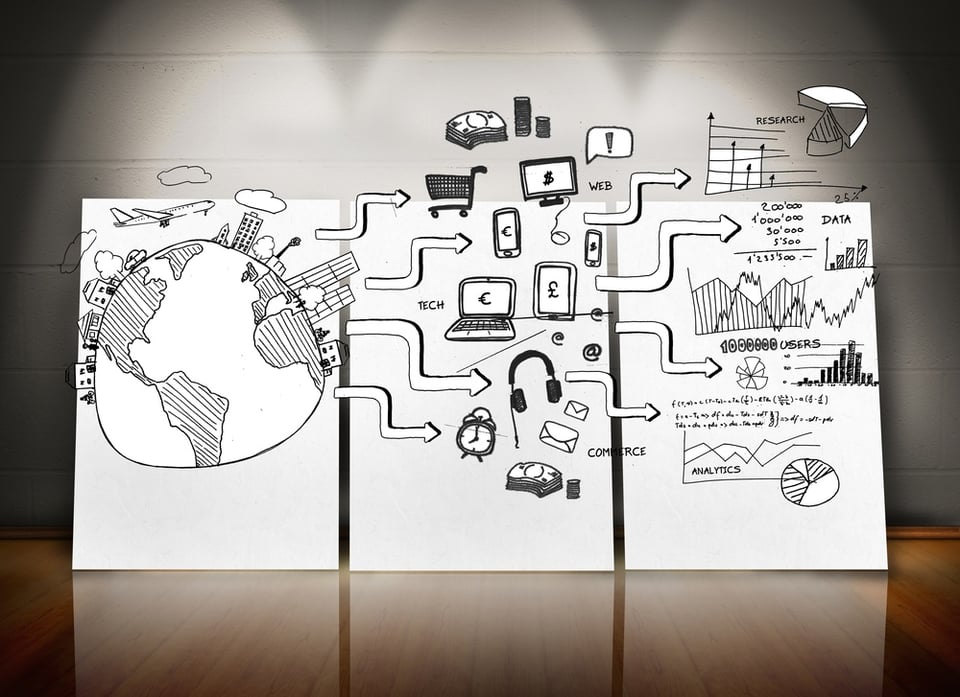 The majority of organisations you deal with today are embarking on or well underway on a digital transformation journey. Organisational processes, structures, and result strategies are being aligned to take advantage of the efficiencies digital technologies deliver and in some cases, mitigate the disruption digital technologies have on the enterprise.
Many organisations see disaster recovery as a governance and compliance necessity. However, choosing a Disaster Recovery as a Service (DRaaS) solution for your organisation's digital resilience can do so much more than only meet your compliance obligations.
Zettagrid's SecondSite is an affordable enterprise-class disaster recovery replication (DRaaS) solution built on the award-winning Zerto platform. SecondSite delivers a holistic virtually aware business continuity and disaster recovery solution for all virtualised workloads needing protection. These features, in addition to the fact Zettagrid is Australian owned and operated and its data centres are located in Australia, make it the logical choice for your DRaaS solution.
There are many direct and indirect benefits you can leverage when utilising DRaaS as part of your digital transformation strategy.
Let's look at twelve ways Zettagrid SecondSite can help you meet or even exceed your digital transformation objectives.
1. Consolidate infrastructure
As much as 51% of organisations who have embarked on a digital transformation journey are hamstrung by legacy IT systems. As organisations have grown organically over time so have their IT systems. This organic growth has most likely led to multiple physical hardware platforms and duplicated processes as businesses deployed solutions to meet user demand for specific IT services as and when required.
Investing in Zettagrid SecondSite can help you consolidate your disparate IT systems. SecondSite is an enterprise-class business continuity solution you can utilise while you merge your physical sites and IT infrastructure, giving you the flexibility you need to digitally transform your business without being hindered by legacy IT systems.
2. Empower agility
The key to success in a digitally transforming world is agility. Customers are impatient and expect instant gratification. The problem with legacy systems is the time needed to implement change. 85% of enterprise decision makers feel they have 2 years or less to embrace digital transformation before suffering financially and competitively and many decision makers believe this time frame is not achievable because of their current legacy footprint.
To meet this challenge, organisations can utilise the flexibility and scalability of Zettagrid SecondSite to free up compute resources on your current IT virtual platform to rapidly deploy new technologies and exploit the competitive advantages new technologies have to offer. Utilising SecondSite in this manner can help you manage the challenge of constantly meeting shifting customer demands.
3. Facilitate innovation
Technical complexity is yet another barrier to entry for many organisations wishing to implement a digital transformation strategy. 57% of customers cite complexity as the key barrier to delivering a compelling customer experience on a digital platform.
Zettagrid can help you leverage the power of the cloud to overcome technical complexity by helping you deploy new applications quickly and efficiently without the usual complexity surrounding infrastructure and security. In addition, Zettagrid's SecondSite helps you leverage the best possible DRaaS solution empowering your resources to demonstrate the value of resilience in this age of digital transformation.
4. Simplify
A digital world is a complex world and simplicity is the key to managing this dynamic environment. Legacy disaster recovery solutions are complex and take time to manage, time which can be better utilised on innovating and adapting to digital disruption. In fact, 88% of organisations view the utilisation of cloud technologies as enabling digital transformation through the introduction of simplicity.
You can reduce the complexity of managing IT infrastructure by leveraging the technologies embedded in Zettagrid SecondSite. SecondSite gives you visibility across all your sites and further simplifies your management overhead with end-to-end process automation.
5. Leverage the cloud
Cloud computing has many benefits. The ability to rapidly deploy and test solutions and workloads is one of the greatest business enablers cloud computing has to offer. Legacy systems lack this agility and flexibility. You could build a private high availability disaster recovery solution by investing in legacy based hardware and software. However, your total cost of ownership and return on your investment would be dismal at best when compared to the cost and ease of using a cloud-based DRaaS platform.
Zettagrid SecondSite gives you the ability to replicate from on-premise to a Zettagrid SecondSite or from one SecondSite zone to another. This gives you the flexibility you need to rapidly test and deploy new applications, or enhancements to existing digital assets, at a fraction of the cost and with much less effort.
6. Automate
Time has always represented money. However, the pace of innovation and disruption today is unprecedented. Organisations globally are being forced to do more, in a shorter space of time, with less.
Automation, which is a key feature in Zettagrid SecondSite, is the remedy. Automation reduces manual workload on repetitive processes and frees up resources to tackle digital innovation and projects which can give you the competitive edge.
---
RELATED: How to achieve amazing business resiliency
---
7. Speed up your data availability
Digital transformation success is empowered by data and information. The issue facing organisations who have embraced digital transformation is the moving of data between systems and ensuring availability when the data is needed.
Zettagrid SecondSite can migrate your applications and data from on-premise to the cloud in minutes. This gives you the flexibility and scalability you need to ensure your data and application performance meet the expectations of your customers and users.
8. Secure your Test and Development Environments
Security is a key consideration in today's digital age. One only needs to read the news headlines to see the impact data breaches and security incidents have on organisations which have been compromised.
Development and test environments are known security weak points hackers often exploit. These environments often contain sensitive confidential data but have very little or no security in place when compared to production environments.
Utilising Zettagrid SecondSite to rapidly and securely spin up a development or testing sandbox environment helps mitigate this common organisational vulnerability. You take care of the application and data and Zettagrid takes care of the security.
9. Improved business analytics
Access to information is a significant driver of digital transformation. Information which is readily available, relevant and accessible when needed gives organisations the competitive advantage. With 66% of digitally advanced organisations anticipating an increase in analytics budgets, this requirement will continue to grow exponentially.
With Zettagrid SecondSite reporting and analytics you can view the health status of your entire IT infrastructure from anywhere and at any time helping you make better decisions and optimise the performance of your IT services. SecondSite also ensures your business data is available so business has the information it needs to drive its strategy.
10. Global reach with local relevance
The proliferation of cloud computing in the past few years has also caused a proliferation of cloud service providers. However, not all cloud service providers were created equal and organisations wishing to leverage the cloud must choose their cloud service provider wisely. Issues such as security, reputation, performance, and proximity are vital considerations.
Zettagrid is Australia's most advanced self-service cloud platform. SecondSite services are geo-redundant with locations in Perth, Sydney, Melbourne, and Jakarta ensuring your systems are secure, resilient and have the performance geo-proximity has to offer.
11. Governance, risk, and compliance
Governance, risk, and compliance are not only audit requirements but key business imperatives. Historically, these activities have not been seen to be revenue generating or value-adding undertakings.
Organisations needed to perform these tasks to ensure their survivability in the event of a disaster but often business viewed disaster recovery solutions as white elephants and a waste of precious resources.
In the age of digital transformation, 80% of CIO's drive global risk portfolios which enable agility through an adaptive response to security, compliance and similar catastrophic threats.
Zettagrid SecondSite gives you the ability to rapidly respond to real threats as well as conduct automated DR testing in minutes with documented proof of success to meet compliance objectives. In addition, the automation offered by SecondSite helps free up resources which reduces the total cost of disaster recovery for your organisation
12. Confidence in your security
61% of organisations consider security a major risk factor and significant challenge to digital transformation. With data being available online and everywhere, organisations globally need to put measures in place to protect their systems and need to have the ability to recover rapidly from any form of a security incident.
SecondSite delivers peace of mind
Zettagrid SecondSite gives you the peace of mind and confidence in knowing that whatever happens all your critical data is protected, recoverable and available.
Sources: All stats in this article are from Zerto.
---

Tags