Our latest promotion enables Australian businesses to protect their data with 30 days of free disaster recovery for three Virtual Machines with up to 1TB of storage per machine.
Click here to learn more about the product >>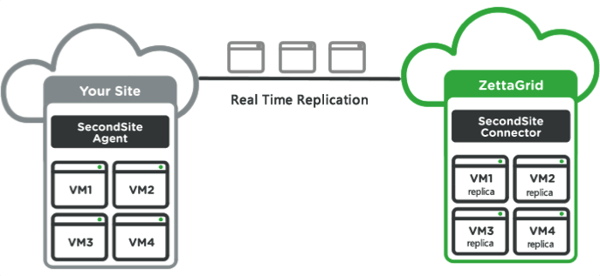 Zettagrid offers your business the opportunity to trial at no cost to your business the most powerful and affordable real-time disaster recovery solution SecondSiteTM powered by Zerto.
SecondSiteTM is built on the award-winning Zerto platform. If a disaster were to impact operations, your company's IT will be up and running within minutes in Zettagrid cloud until your primary site recovers.
Gone are the days of complexity with base service fees, resource reservation fees, licence fees, storage costs, ram costs, CPU costs, consulting and implementation costs. SecondSiteTM removes the need for secondary data centres, duplicate IT equipment and lengthy wait periods that can interrupt operations and impact productivity.
SecondSiteTM is available at $99 per VM (up to 1TB) per month with the added benefit of a free failover testing every 90 days.
For existing Zettagrid cloud customers, the promo offer extends to a free trial of SecondSiteTM Interzone. Going beyond replicating virtualised IT environments from on-premises into Zettagrid's cloud, businesses whose environment is already in Zettagrid cloud can now replicate their Virtual Data Centres to other zones.
Tags