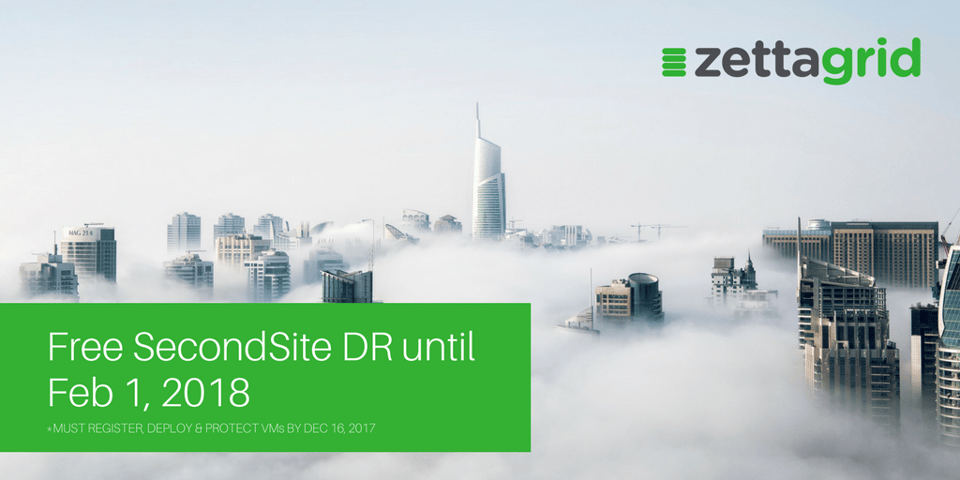 Our latest promotion is live, enabling Australian businesses to protect their data with free comprehensive disaster recovery until 1 February 2018.
We're offering your business the opportunity to trial the most powerful and affordable real-time disaster recovery solution SecondSiteTM to protect your VMs against unforeseen outages. It's also an opportunity to identify whether SecondSiteTM is the right fit for your DR strategy.
This promo offer enables you to test the power of real-time replication for free with your VMs until 1 February 2018. Included in the offer is a free network configuration assessment and up to 1TB of storage.
Take up of the offer is available from now and registrations close COB 16 December 2017.
Zettagrid SecondSiteTM is built on the award-winning Zerto platform. If a disaster were to impact operations, your company's IT will be up and running within minutes in Zettagrid cloud until your primary site recovers. SecondSiteTM removes the need for secondary data centres, duplicate IT equipment and lengthy wait periods that can interrupt operations and impact productivity.
For existing Zettagrid cloud customers, the promo offer extends to a free trial of SecondSiteTM Interzone. Going beyond replicating virtualised IT environments from on-premise into Zettagrid's cloud, businesses whose environment is already in Zettagrid cloud can now replicate into other zones.
The offer is available to any new VMs protected and there is a limit of one promotion code per customer.
To register for the free promo offer, as well as to review all Terms & Conditions, please visit http://info.zettagrid.com/free-secondsite-disaster-recovery
---
To read the full press release click here.

You might also be interested in:

Tags